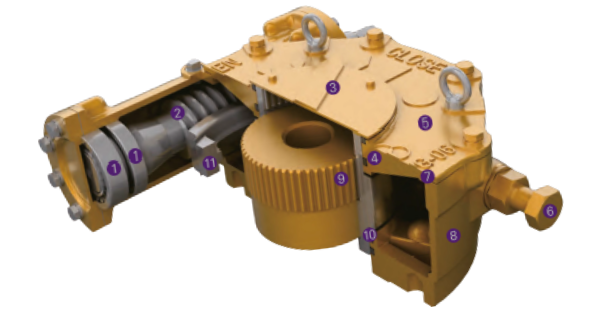 Sambo Worm Gears
Sambo worm gears are known for their high quality and high performance. These worm gears are rated to 710,000ft-lbf and are available with single, double, or triple reduction spur gear. Sambo worm gears are also available with a vertical input shaft. An O-ring seal allows worm gears to be rated for submersible service to IP-67 class.
Sambo worm gears are available for shipment from our warehouse in Houston, TX. Contact us for a quote or for more information.
WG-Series Worm Gears
Tapered Roller & Ball Bearings
The Sambo worm gear is supported on tapered roller bearings which support both the axial and radial forces generated by the gearings. Worm gears have an excellent load bearing capacity.
Worm
Made with 1045 heat treated steel, with ground and polished worm threads. Precision cutting of the threads provides minimum backlash between the worm gear and worm.
Indicator Plate
Pointer provides positive position indication. The pointer can easily be re-positioned if required.
Sealing
The drive sleeve is supplied with a oil seal at the top and large cross-section a-ring at the bottom. This sealing method allows the units to be rated for submersible service to IP67 standards.
Cover
Legends, 'close-Open-Close' are cast directly on the cover of the worm gears. This permits operation in either direction with position indication.
External Adjustable Stops
The stop bolts allow for position accuracy of +/- 5°. Each bolt also includes Buna-N sealing washers or prevent water intrusion.
Gaskets
Each end of the worm assembly is equipped with special design material (non-asbestos), which are completely water resistant.
Housing
All external castings are Ductile Iron. Class 65-45-12, Tensile Strength of 65,000 psi.
Splined Bushings
All worm gear units are furnished with removable splined bushings to permit accurate position between the gear drive and the value shaft.
Thrust Washer
The drive sleeve is furnished with hardened steel thrust washers above and below warm gear. This minimizes frictional looseness between the gear and the ductile iron castings.
Worm Gear
Standard material is Ductile Iron, Grade 80-55-06, making Sambo worm gears suitable most industrial applications. A worm gear option with aluminum bronze having a tensile strength of 85,000 psi is also available. These gears are normally required for motorized applications involving modulating service and is also a requirement to meet the AWWA standards.

SE-Series Worm Gear
This quarter-turn manual worm gear comes in 8 sizes, all rated IP67 grade. The worm is a single-body heat treated high-strength carbon steel and all castings are ductile iron (class 65-45-12).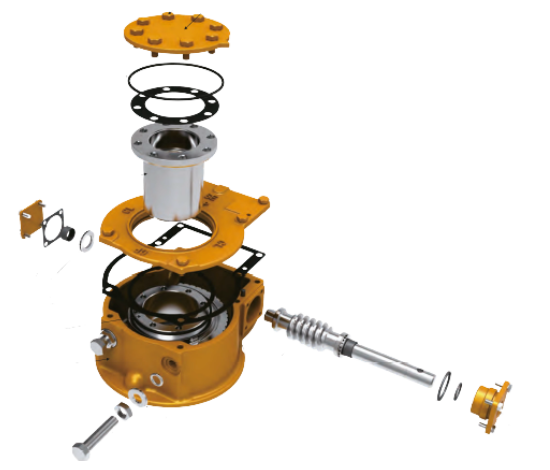 Documentation: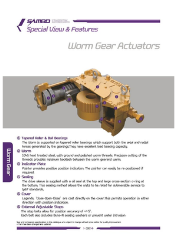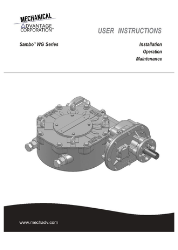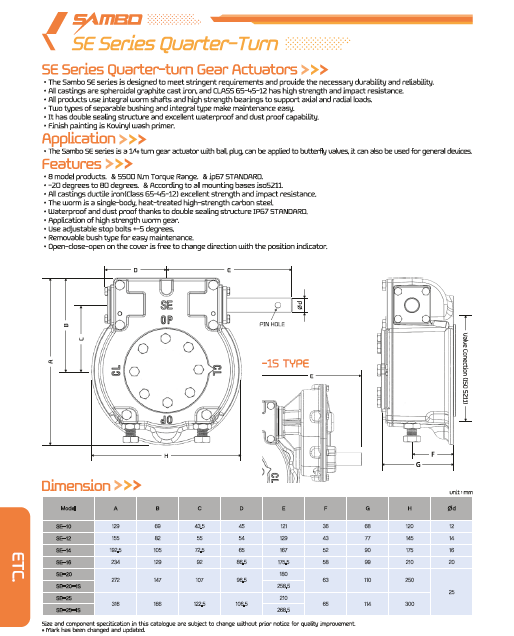 Related Sambo Products